This buying guide is for all those night owls that enjoy a quality book before bed but do not want to wake up their significant other while doing so. We did research about the solutions for this problem and made a list of the best reading lights that will not disturb your sleeping partner.
Reading in a well-lit environment is very important, especially as we age and do not want to degrade our eyesight further. But which light can provide sufficient illumination without waking up or disturbing someone that is sleeping right beside you? Luckily there are solutions, and plenty of them if you know where to look. We are here to help you with this endeavor and assist you in finding the best lights for such purposes in today's market. There is a lot to talk about, so let's start.
List of Best Reading Lights
1. VAVOFO Amber Rechargeable Reading Light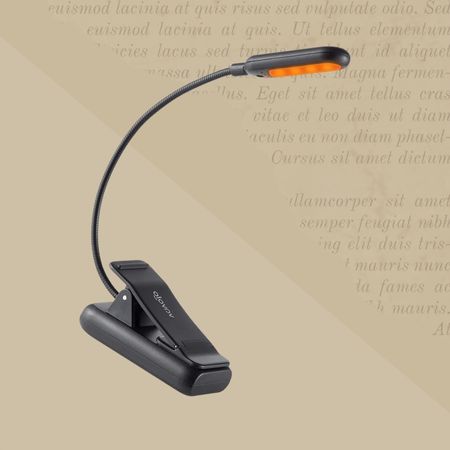 Coming from the Vavofo store, this rechargeable reading light is a cost-efficient illuminating solution that does not compromise on quality. It is a discreet lamp that is available in multiple colors, so you can choose the one that will suit your bedroom's interior the best.
This unit offers three different brightness settings and nine color temperature modes, which checks off so many boxes and allows you to adjust the light exactly how you want it so that you can read during night hours without disturbing your sleepy partner.
You get convenient light clips that can get attached to your book so that you are able to easily flip the pages. The head of this light is super-flexible and can be rotated for 360 degrees, making it super easy to point it wherever you like. Simple, cheap, but effective, this light is everything you would require from a quality reading light.
Pros
Three brightness settings
Nine color temperature modes
Flexible head of the light that rotates 360 degrees
Cost-efficient
Convenient light clips
Cons
The flap on the clip is not very durable
2. Glocusent LED Neck Reading Light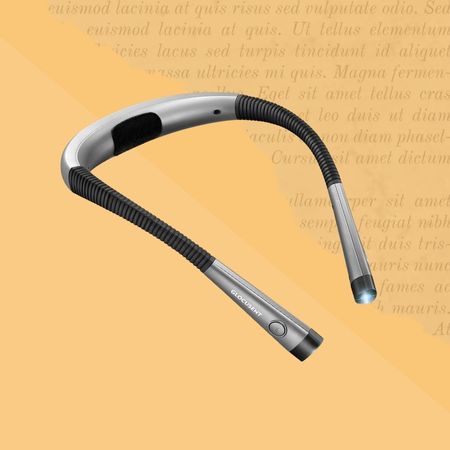 When it comes to lamp versatility, the Glocusent LED neck reading light is definitely one of the best you can find in today's market, both in terms of functionality and price. It is excellent for reading at night without disturbing your sleeping partner, as it has a narrow beam angle that is designed to light up the specific area while not spreading the light around it.
What makes this reading light so effective is the fact that it is highly adjustable in terms of brightness level and color temperature. The temperature is switchable on three settings – 3000K, 4000K, and 6000K. On the other hand, brightness also has three levels, so you will be able to set everything up according to your room's needs.
It is a rechargeable unit that has a USB-C port, making it super easy to connect and recharge the device. The battery itself has a life of 1000 mAh, which is enough to serve you for days if you use it for a couple of hours every day. It is lightweight and portable, meaning that you can carry it pretty much anywhere you like, and considering the price you get this light for, it is a really good bargain.
Pros
Adjustable arms
Highly versatile
Plenty of options in terms of brightness and color temperature
The battery is rechargeable and can last for days
Both lights have separate power buttons
Innovative design, perfect for reading in bed
Bright and clear light with advanced LED beads
Cons
The arms around the neck are a bit loose
3. Glocusent 5W Clip on Light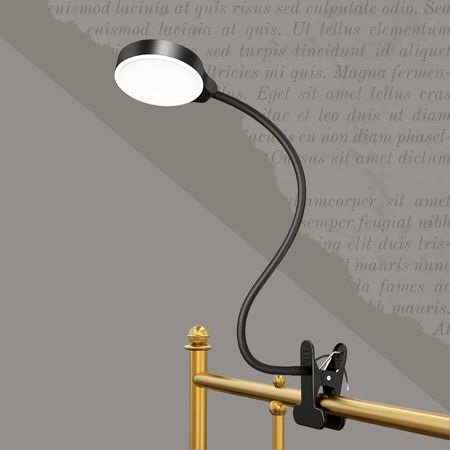 This lamp is a very convenient product for users that do not have a bedside table next to them but do not want to use lamps that get clamped on their books. This one does come with clamps, but it is meant to get attached to your bed and provides plenty of flexibility with its gooseneck so that you can make a setup ideal for your reading position.
You can hook this lamp to the edge of the bed for the most convenient use, as you will be able to point the flexible head in pretty much any direction you would like. The lamp is designed to protect your eyesight while also limiting the beam of light in the direction you point it without spreading it to disturb your sleeping partner.
There are three color modes and five brightness settings available, so adjustability is nothing to worry about. The only drawback about this light is that although it has multiple brightness levels, it could be a bit lower. Other than that, it is a great lamp that is definitely worth the price.
Pros
Highly flexible gooseneck
Three color modes
Five brightness settings
Sturdy and durable construction
Very adjustable
Cons
Brightness levels could be lower
4. Ecologic Mart – Double Arm Rechargeable Book Light for Reading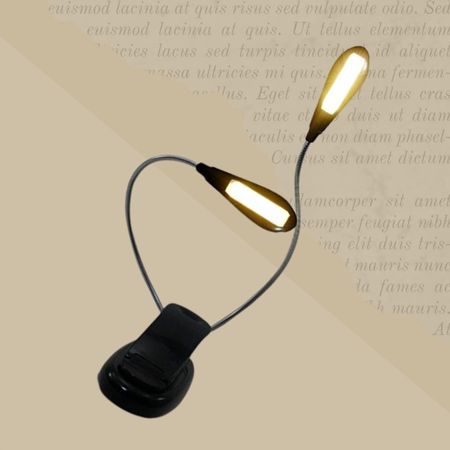 Coming from the Ecologic Mart store, this rechargeable light provides everything you would need for late-hour reading. It features an adjustable dual-arm design, which is very convenient as both pages of your book will be properly illuminated.
Same as other models we have listed so far, you can easily adjust the brightness and color temperature on this one, and depending on your environment, you can make a perfect setup that will suit your eyesight. There is also a milky filter over the LEDs that ensures excellent distribution of light without brightening the space too much and waking up your partner.
This lamp also offers a pretty good battery capacity that stands at 1200 mAh, which is more than enough to last you for days. You will also notice the battery life indicator on the side clip, so you will always stay informed on its life and the time you need to recharge it. This is a feature-rich lamp and is certainly worthy of consideration.
Pros
Small footprint
Durable construction
Plenty of lighting options
Flexible arms that provide great coverage for both book pages
Excellent battery capacity
Cons
A bit heavy for smaller books
5. Energizer Clip on Book Light for Reading in Bed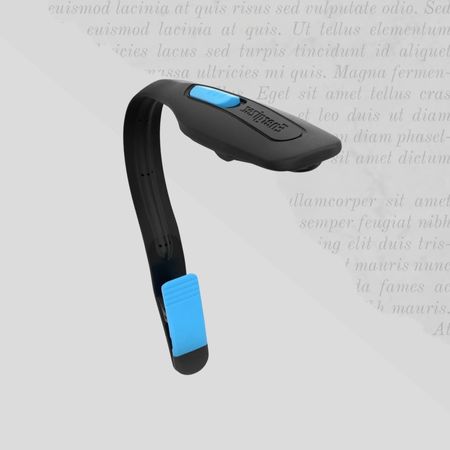 This product is a great pickup for anyone that is looking for a functional reading light with a lower price tag. It is small, has a flexible head, and provides sufficient light, but it offers a very simple design that will still do the job when you want to stay up late reading but do not want to wake up your bed partner.
Energizer light features a small clip that is very convenient for paperbacks, hardcovers, and even ebooks. Essentially, this is a low-cost, low-hassle solution for a night light, and although it lacks some advanced features that more expensive models possess, it will get the job done.
As far as the drawbacks of this product go, there is only one light setting, and the body of the lamp cannot stand on its own, as it has to be clipped to something. It is not a rechargeable model, but you can use CR2032 batteries for it that can be easily replaced with a screwdriver. Overall, this is a great budget option, so do not expect something flashy out of it.
Pros
Small and foldable design
Cost-effective
Durable build
Compact
6. Vekkia Amber Bookmark Book Light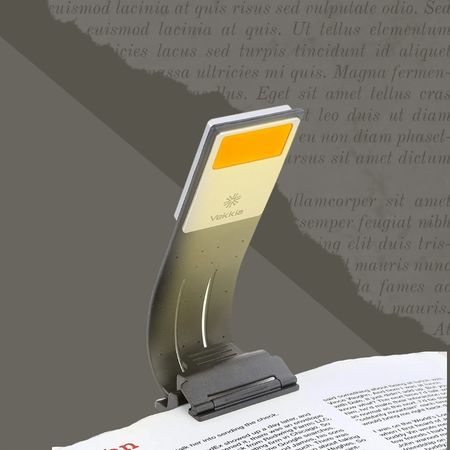 Vekkia Amber bookmark light does a fantastic job at providing sufficient illumination for book reading while also managing to stay discreet enough not to disturb anyone around you. It is a clip-on reading light that allows you to easily flip the pages without the need for extra adjustments.
This unit offers a big square light, which is different from other models we have listed so far, which provide narrow LED strips. It makes the light reach both pages of your book, which is something your eyes will be grateful for over the course of years. The light is also pretty gentle, and you can change its brightness and temperature easily.
The one limitation of this unit is that it does not have a movable head, and it is fixed in one spot. This might be an issue for some users that often like to switch the reading positions and light angles. However, due to this light's broad coverage, the inability to adjust the neck might not be an issue for most people.
Pros
Convenient clips for books
Excellent color and brightness adjustability
Rechargeable battery
Square light LED
Gentle illumination
Cons
The light's neck cannot be adjusted
7. Flexilight Reading Light 2 in 1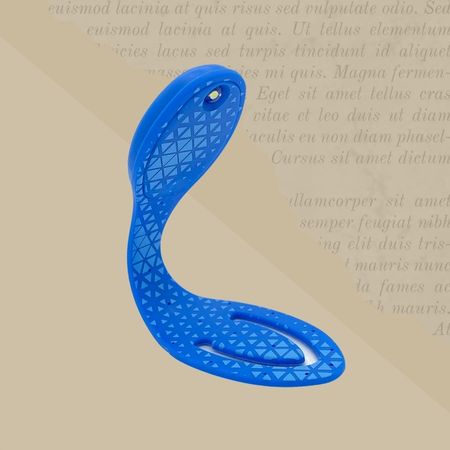 This product offers an innovative design that allows you to use it both as a reading light and as a bookmark. It is a perfect choice for users who enjoy reading in bed or in dark rooms, and since it comes with batteries included, you can start using it immediately upon arrival.
The light is designed very thin so that you can easily use it as a bookmark and carry it pretty much anywhere you like. It also comes with a highly flexible neck that allows readers to adjust the beam of light the way it suits them best. Moreover, it offers a bright LED light that is perfect for reading in any environment, and since it is very discreet, it will not bother your partner.
It is a highly versatile unit with 14 cm x 3 cm in size and 8 lumens of power in the LED light. You can pick this product from over 30 stylish designs, and you can even go for several models since the price is pretty affordable. It is not the flashiest product out there, but it certainly serves its purpose and grants excellent coverage.
Pros
Flexible design
It can be used both as a reading light and a bookmark
Very thin and lightweight
Discreet and does not disturb your sleeping partner
Affordable
Durable construction
Cons
The battery does not last for very long
8. YKZ Rechargeable Neck Book Light LED Reading Light
Neck book lights are very practical and convenient solutions for reading books at night without disturbing anyone in your surroundings. You can easily wrap this light around your neck and get sufficient light to keep your eyesight intact and your reading position comfy.
This product offers three color temperature modes, and you can also easily adjust the brightness level to your liking and create a flawless reading environment. The LED lights can also be detached so that you can easily move them around to figure out the perfect position.
It is a rechargeable light and offers two built-in 550 mAh lithium batteries that provide roughly 100 hours of use on a single charge. The best thing about it is that it is a hands-free product so that you can snuggle in your favorite reading position and avoid moving for hours. Convenient, reasonably priced, and effective, this unit is definitely a worthy consideration.
Pros
Customizable brightness and color temperature
Two separate control centers for straightforward adjustments
Batteries can provide 100 hours of use per charge
Hands-free design allows you to take comfier positions while reading
LED lights can be detached and repositioned
Cons
You have to charge both sides of the unit separately
9. DEWENWILS Christmas USB Rechargeable Book Light
This low-profile clamp-on reading light is a perfect standalone light for anyone that requires discreet illumination and a compact design. It offers a lot of versatility for its size alone, and although it might seem small, the power is not compromised at all.
Although this unit does not have a flexible head, it can rotate clockwise and counterclockwise. It will provide you with enough adjustability to set it up the way it is most comfortable for you and avoid bothering your sleepy partner. Moreover, the light is sufficient to illuminate both pages of your book.
This lamp has a fixed color temperature that stands at 3000K, which is like a mixture of soft white and warm yellow glow. It is pleasant on your eyes and not too strong. The one issue with this product is that it makes a loud clicking noise when you adjust the position of the head. Other than that, it is a nice and affordable light.
Pros
Modern design
It can be folded into a slim and compact shape
USB rechargeable
Adjustable brightness
Cons
Fixed color temperature
Makes a loud clicking noise when you adjust the head
Things You Should Consider Before Buying Reading Lights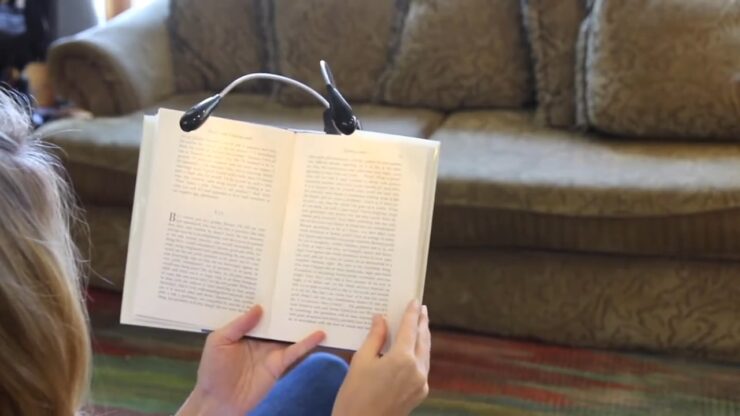 Now that we have listed some of the best reading lights on the market, it is time to focus on important features you should look for when making this purchase. In the section below, you will find some essential guidelines to follow in order to get the best possible value for your money's worth.
Flexibility
If you often switch positions when reading and need to adjust the light angle accordingly, then you should look to buy a unit that comes with a flexible head. This design will allow you to change the angles of the light beams and make yourself comfortable under appropriate illumination.
Brightness
When it comes to brightness, you want to get enough to avoid damaging your eyesight, but it needs to be discreet enough so that you do not disturb your partner's sleep. The best option would be to pick the product that offers you the option to switch the brightness levels so that you can set everything up just the way you want it.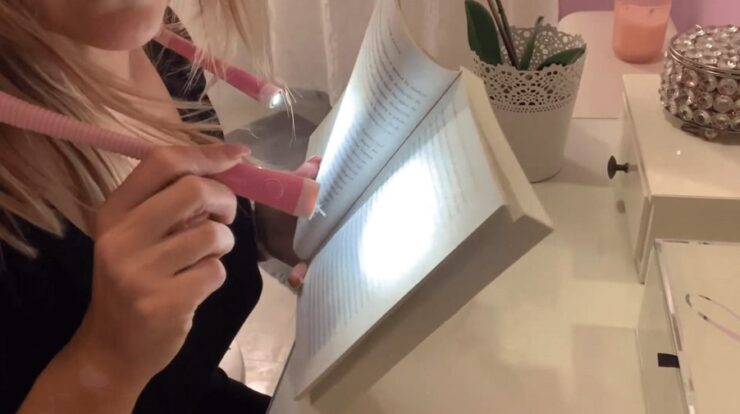 Color Temperature
If you are sensitive to light, it would be wise to choose the light that allows you to adjust the color temperature. Look for lights that offer warmer color temperatures, as they reduce eye strain and are generally more acceptable for dark room conditions, as they will not bother your sleeping partner.
Battery Capacity
Battery capacity is also a very important thing to consider since the better it is, the more time you will be able to spend reading without interruptions. Usually, batteries with around 1000 mAh are sufficient to serve you for 100+ hours, which will definitely suffice.
Weight and Size
When it comes to weight and size, you should opt for lightweight lights with compact designs. This especially goes if you are buying a light with a clamp-on design, as you will be able to secure it to your book safely without it weighing down both your arms and the book.
Frequently Asked Questions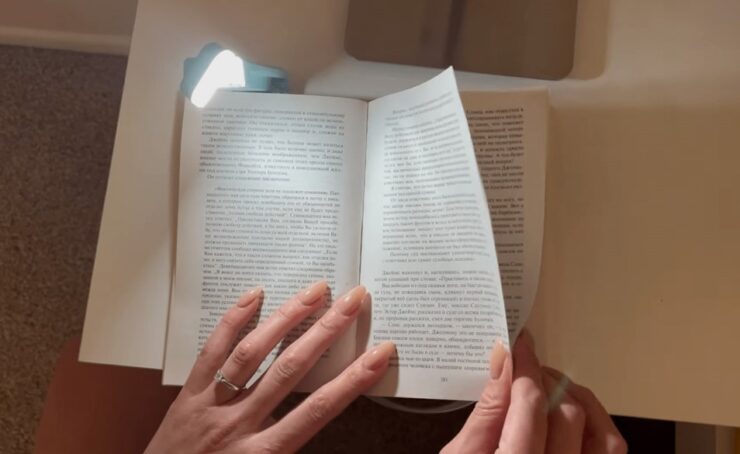 1. Which lighting is the best choice for reading?
This is something that entirely depends on your preferences and surroundings. If you want a small and compact solution, opt for a light with a clamp-on design. In case you prefer a hands-free design, opt for a headlamp. Lastly, if you seek a good all-around option, a neck light might be exactly what you need.
2. Are reading lights expensive?
No, in fact, they are quite affordable. All the products we have listed come with relatively low price tags that generally vary between 9 and 30 USD, which is not something that will make you break the bank.
3. Can reading lights damage your eyesight?
No, in fact, they can preserve your eyesight. Most modern reading lights offer you the ability to adjust the brightness levels and color temperatures so that you can set everything up the way it will reduce eye strain. However, if you spend too much time reading at night, your eyesight still might get damaged.
4. What color of light is ideal for reading without disturbing your sleeping partner?
Although this comes to a personal preference, the best lights for reading that are not too bothersome for your sleeping partners are yellows and whites. They will not hurt your eyes and are warm enough not to be invasive to surroundings.
It is also crucial to avoid blue lights, as they can interfere with your sleep cycle. Overall, amber lights are the best picks, especially before going to bed. These are warm lights that reduce eye strain and protect your sight.
Final Words
For all those who adore reading books at night, amber reading lights are definitely the perfect solution. There are plenty of options you can go for; you just have to look for those extra features, such as flexibility, that will improve the overall comfort and reading experience.
We hope you liked our list and guide and that they will help you find the perfect choice for you. If you still cannot decide which product will suit you best, revisit our top three picks, as all of them offer an excellent set of features and appropriate illumination to let you keep reading without disturbing your significant other.